Archive

please see the current year
Augusta Wisconsin Quilt Show 2013
At the Augusta Area Senior Center

Archive
601 Main St, Augusta WI 54722
augseniors@aol.com • 715-286-2953
2013 Quilt Show Announced Winners
Category Winners of the Augusta Wisconsin Quilt Show 2013. You can see last years Winners here
Category
Winner
Crib Sized
Paula Jungerberg
Bed Size

TIE!

Heather Erdman & Jane Enos
Hand Work
Sue Thieler
Wall Hanging
Chris Bergquist
Miscellaneous
Debbie Peterson
Challenge
Algean Strauch
Some of the Quilt highlights at the 2013 Quilt Show. Click on the Winning Quilt photo to see if full size
Previous years Wisconsin Quilt Show:
[ 2017 ] [ 2016 ] [ 2015 ] [ 2014 ] [ 2013 ] [ 2013 video alternative ] [ 2012 ]
The Show was March 8 & 9, 2013
Schedule: Fri: 12 noon - 7 pm • Sat: 10 am - 4 pm
Viewers' Choice Awards! Winners will receive a Prize Basket
~ 100 + Quilts on Display ~ Vendors ~ Inspiration ~ Raffles ~
~ Free Demos & Presentations ~ Food ~
An assortment of vendors offering a large variety of quilting supplies, jewelry, crafts and more. A special lunch menu will be offered both days including home baked goodies. Finally, a queen sized quilt will be raffled for the benefit of the Augusta Senior & Community Center.
Two Nolting Longarm Quilting Machines set up for a "Hands-On" experience!
The winners of each category will each receive prize baskets containing donations from leading quilt industry companies.
Quilt Show Entry form and Poster
Jenny Elliott of the Folk Art Emporium, Menomonie, WI will make presentations
Friday Presentation Times:
Saturday Presentation Times:
1:30 pm
Back to the Bicentennial • Quilts from the Quilt Revival of the 70'S & 80'S
10:30 am
Folding Fabric Origami Boxes
3:30 pm
Appliqué the "Needle-Turn" Way
1:30 pm
Back to the Bicentennial • Quilts from the Quilt Revival of the 70'S & 80'S
Raffle Quilt to be giving away during the 2013 Augusta Quilt Show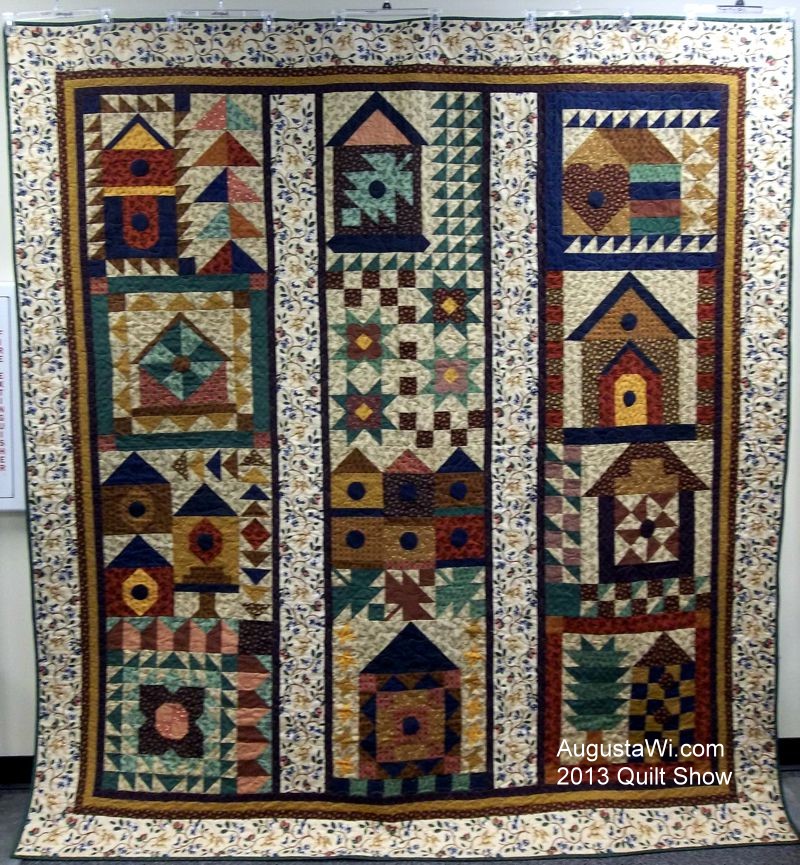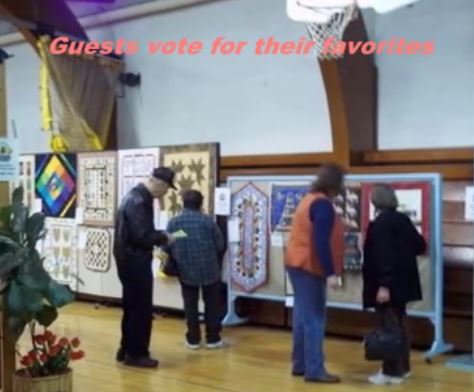 Previous years Wisconsin Quilt Show:
[ 2017 ] [ 2016 ] [ 2015 ] [ 2014 ] [ 2013 ] [ 2013 video alternative ] [ 2012 ]