Map of the Bridgecreek Township and Fairchild Township in Eau Claire County
Eau Claire County Wisconsin map for Bridgecreek Township and Fairchild Township including the city of Augusta Wisconsin and the Village of Fairchild Wisconsin. This is a very large map of the Town of Bridgecreek and the Town of Fairchild in Eau Claire County includes Eau Claire County forests, parks, campgrounds, roads, streams, rivers, highways, nature areas and bi-ways
The map is best and most fully seen on large screen monitors with a resolution of 1680 x 1080 or larger See lists below this township map for a list of all features. Please see about this Eau Claire County Town of Bridgecreek map at the bottom to the page Recently added - click the name for DNR info: State Natural Areas 1 ) Cook Fork Barrens; 2) Pea Creek Sedge Meadows 3) South Fork Barrens
See the Bridgecreek Township map clearly in full size, click on the image, right click, view image. Or, here is a link to open the map of Eau Claire County's town of Bridge Creek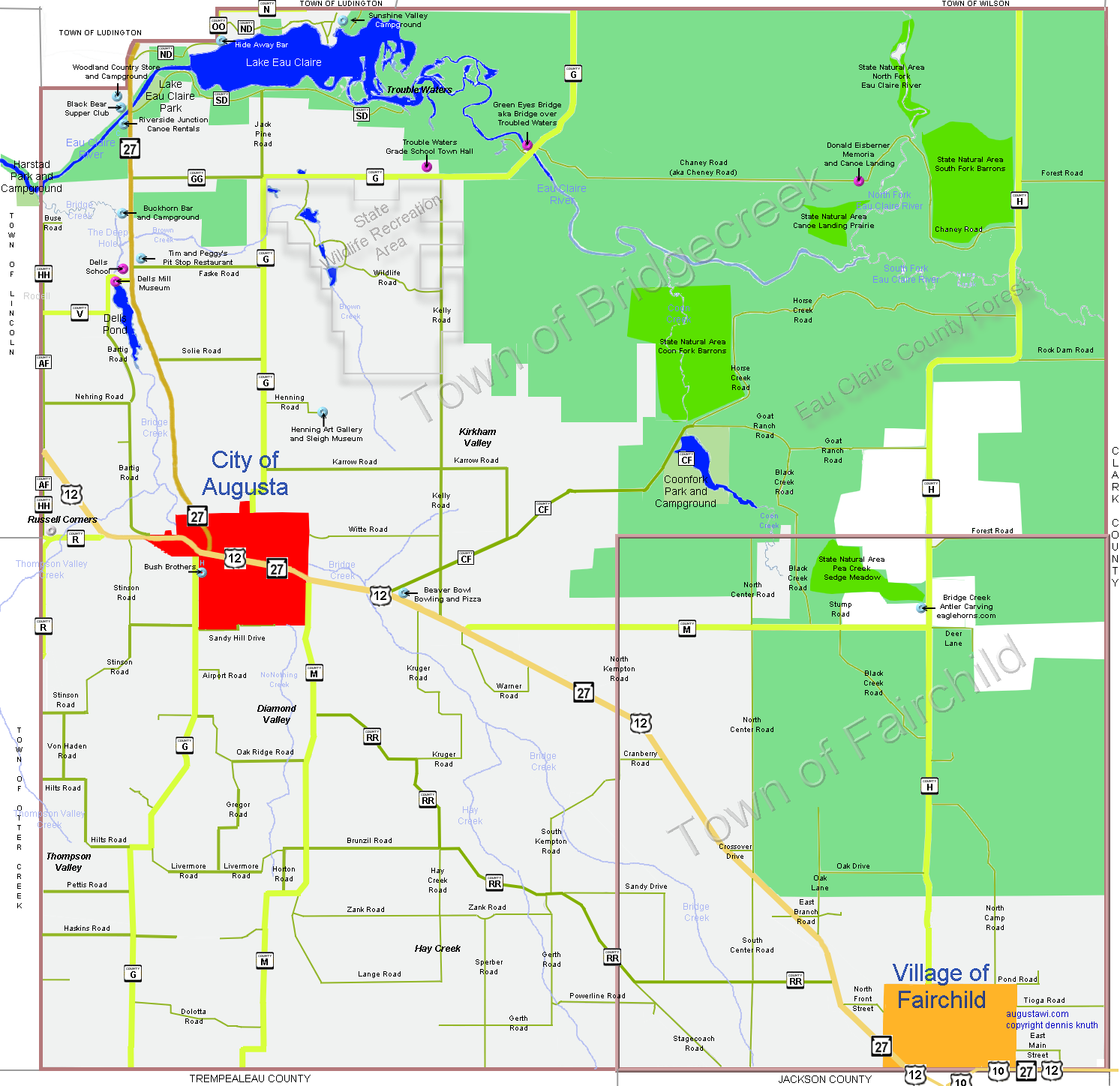 Locations for: Coon Fork Campground, Harstad Park, Lake Eau Claire Park and Wisconsin State Wildlife Recreation Area. Eau Claire County Forests, and some of the Augusta Wisconsin businesses just out of town
The recreation area is public land open to a full range of uses for everyone - it is a place to hunt, photograph and watch wildlife, fish, trap, hike, and pick berries. There are ATV and snowmobile trails in and outside of the area. The map now includes Eau Claire County Forests in the Township.
| | |
| --- | --- |
| | There are a number of Amish families on this Augusta Wisconsin Map in the Hay Creek and Diamond Valley Areas. Amish Buggies and modern automobiles share our country roads. Please drive especially carefully when mounting hills and rounding corners on our country roads; there may be an Amish family full buggy just out of site. The Augusta Wisconsin Amish Road Sign can be seen full size by clicking on the image |
| | |
Eau Claire County Forests are public lands open for hunting and fishing and other recreational uses. Please be cautious because posted areas may be interspaced with public lands.
Great Camping, Hunting and Fishing Locations near Augusta Wisconsin. Be aware that some back roads are unpaved and seasonal conditions vary widely.
Town of Bridgecreek Features (Bridgecreek Township) All Features and locations are listed on the map of the Eau Claire County Town of Bridgecreek Wisconsin
State Natural Areas:
Allowable: Hiking, Hunting, Fishing, Trapping, Skiing Prohibited: Horseback riding, Rock climbing, Vehicles, Plants Collecting
Locales in the Eau Claire County Town of Bridgecreek Area
Hay Creek
Kirkham Valley
Rodell, Wi
Diamond Valley

Russell Corners
Thompson Valley Wisc
Trouble Waters (aka Troubled Waters)
Counties and Townships on the Border of the Town of Bridgecreek
Bridgecreek Township Businesses just out of town in the Augusta Wis Area
US Highways, Wisconsin State Highways, Eau Claire County Highways in the Bridgecreek Township
Named Roads and By-ways in Eau Claire County Wisconsin Town of Bridgecreek
Rivers, Lakes, Ponds, Creeks and Waterway in Bridgecreek Township in Eau Claire County
Museums, Art Galleries in Eau Claire County and the Town of Bridgecreek Augusta Wisconsin
Parks and Campgrounds in Eau Claire County in the Town of Bridgecreek. All are near Augusta Wisconsin
Other Roads in Eau Claire County in the Fairchild Township
Rivers, Lakes, Ponds, Creeks and Waterway on the Fairchild Township map in Eau Claire County, Wisconsin
About this Eau Claire County Wisconsin Map of the Town of Bridgecreek and the Town of Fairchild; The Map is not drawn to scale. This map is hand drawn and locations are approximate. Information is culled from many sources. Its currency may not be up-to-date because some of the sources are not up-to-date.